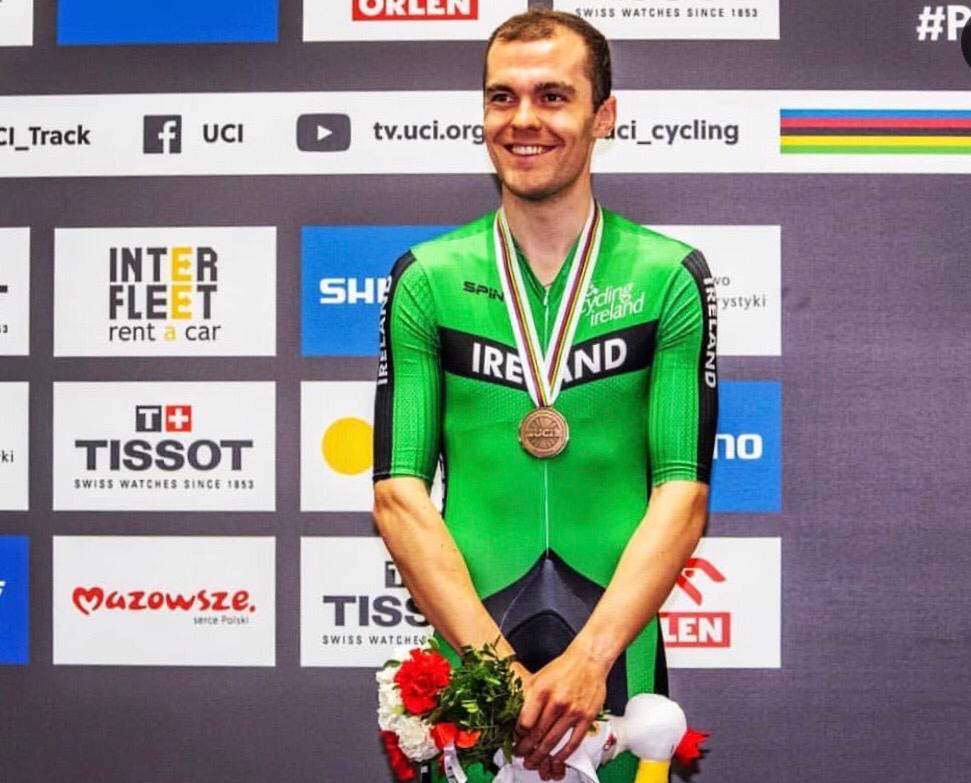 Irishman Mark Downey Podium
World Track Champs - Poland
"Mark Downey" One word for that Madison ..... Brutal. At 59kph AVG speed. #💀 #RIP 📸: @drewkaplanphotography
Podium Start at Jayco Herald Sun Tour,
Wippert 3rd
Dutchman Wouter Wippert sprints to third in Australia
(Athlone, Ireland) January 30, 2019 — Wouter Wippert (NED) powered to third in today's opening stage at the Jayco Herald Sun Tour. In a photo tight finish, Wippert grabbed third position at the line, with Dan Mclay of EF Education First and Kristoffer Halvorsen of Team Sky taking first and second respectively.
"Today the plan was to out local lad Cyrus in the break and he duly obliged, making the key 17 man move. EF and Trek had to pull hard to eventually take it back. Then our main plan unfolded, to set Wouter up for the sprint. We may have gone a bit early as Wouter ended up alone in the last K but there are key moments where decisions have to be made on the road and the guys chose the moment. I believe the only bad decision is no decision. Third in our first ever proper leadout, in this field is not bad. So we move on and up, and look forward to tomorrow's stage with some testing climbs," said Morgan Fox, Head Sports Director of EvoPro Cycling.
Cyrus Monk (AUS) was strong in the early break and then formed a team unit to control the peloton within the last 20km. Monk continues to be instrumental in his ability to aggressively maintain long efforts controlling the front of the races.
Wippert was satisfied with the result but even more pleased with the teamwork and communication during the stage.
"Great work by the team to take the initiative! We tried hard to win the first stage today and got close. We will look to adjust a few things for the sprint stages later this week. As riders, we have good communication and respect for each other on this team. We work well together and you can see this day by day. I am excited for the rest of this week with the boys. We have some good form going so we will try to play all our cards," said Wippert.
Road captain Aaron Gate (NZ) shared Wippert's sentiments as to the cohesive teamwork.
"Boys all worked really well together today. We took control of the race with 2.5 of the 22 laps remaining with Cyrus, Luke and Harry chopping off on the front to keep us in good position and I worked to set the sprint up for Wouter. There was a bit of chaos in the corners and crosswinds in the final km, but Wouter still managed to get up for a solid 3rd place in the sprint finish to kick the tour off for us," said Gate.
The team will look to its young riders Harry Sweeny and Daniel Whitehouse as the race heads into the hills tomorrow.
The Irish Professional Cycling team continues the momentum off the GC win by Gate last week at New Zealand Cycling Classic and the team currently now sits atop the UCI Continental points list. EvoPro Racing opens the 2019 season with a split squad, one roster at Jayco Herald Sun Tour and the other in Mallorca Challenge which starts Thursday, led by the team's Irish and Italian riders.
New EVO Pro squad off to impressive start in New Zealand
Some or all of the five Irish riders on new team will compete in upcoming Mallorca Challenge
Replacing Aqua Blue Sport as Ireland's only registered UCI cycling team, the new EVO Pro squad has had a very impressive start in the Southern Hemisphere. Last weekend Luke Mudgway won the Gravel and Tar Classic in his home country of New Zealand, with his Australian team-mate Cyrus Monk coming third.
The momentum continued on Wednesday when another Kiwi with the team, Aaron Gate, was first to the line on day one of the five-day New Zealand Cycle Classic. He successfully defended his overall lead when he was tenth on Thursday's second stage.
the power : Aaron Gate
Stage 1 at New Zealand Cycling Classic
"Aaron's ride in the breakaway was solid and consistent as we see in the smooth graph. From the 3.5 hrs race, the third hour recorded the highest average power, averaging 323W which is 4.4 W/kg for 3hrs!
And after such a hard breakaway, Aaron managed to do a peak 10" power of 1200W on the finish line! Wouter Wippert rounds the podium by winning the bunch sprint with 1400W peak power and 1150" for 20 seconds!"
— Matteo Cigala, Performance Director
EVO PRO Racing collects data from the
FSA Powerbox available through FSA retailers worldwide.
January 20, 2019 : Stickybottle.com
EvoPro Racing nails first UCI victory from classy breakaway
EvoPro Racing has taken its first victory in a UCI-ranked race with Luke Mudgway (NZ) doing the honours.
The young Kiwi made the winning escape in the Gravel and Tar Classic in his home country earlier today. And when it came down to four riders – Mudgway and Cyrus Monk for EvoPro and two New Zealand national team riders – the EvoPro men made no mistake.
Mudgway sprinted in to claim the UCI 1.2 ranked race, with Monk (AUS) taking 3rd place to cement a memorable day for the new Irish Continental team. READ THE FULL ARTICLE HERE…
January 19, 2019 : Roadcycling.co.nz
Mudgway wins Gravel and Tar to continue dream start for EvoPro
The Gravel and Tar Classic got underway to warm 25C conditions. With no defending champion Ethan Berends in attendance it would be very interesting to see who would step up to the plate. Luke Mudgway of EvoPro was present and fresh from his win in the Hub Tour, as was last year's second and third placed riders.
January 21, 2019 : bikeetta.com
Luke Mudgway (EvoPro Racing) set a hot pace from the gun to win the team's season opener, Gravel and Tar Classic (UCI 1.2) in his hometown Palmerston North, New Zealand. His team-mate Cyrus Monk grabbed third position at the line behind New Zealand's Ryan Christensen, executing a late race attack to break apart final group heading into the last portion of the gravel sections.
"The race today was solid with 5-6 sections of gravel. Daniel Whitehouse lead the team brilliantly into the first gravel section and the race basically blew to bits at the point with about 18 riders coming out of that first section. Each section after a few more riders dropped," said Mudgway.
January 4, 2019 : Irish Examiner
Lifeline for Irish cycling
Irish cycling has been thrown a lifeline with the announcement that the new EvoPro Racing team will form a 17–man roster for its debut season as a professional outfit in 2019.
With the Rás Tailteann still without a title sponsor and the sudden closure of the Aqua Blue Sport team last August, EvoPro will prove some relief for Irish cycling which is going through a tough period in terms of attracting investment at a sporting level.
"EvoPro was born out of pure passion for the sport of cycling and a belief that we can build a sustainable multi-year project focusing on exceptional talent and strength of character in our cyclists," said Morgan Fox, head sports director of the team.
Fox, himself a former national champion, brings experience to what will be a youthful team with an average age of just 24 and from nine different countries.